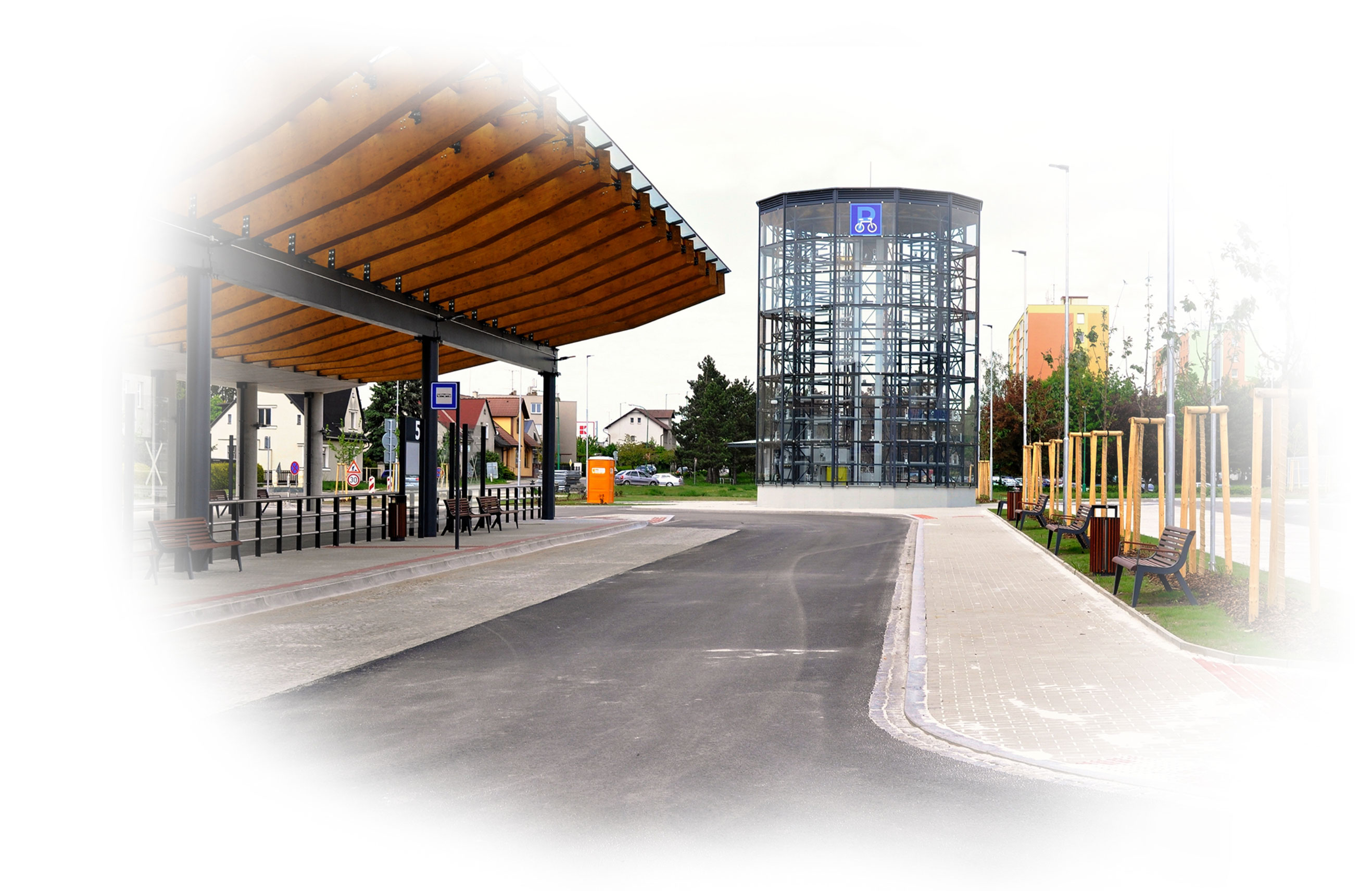 BIKE
TOWER
for municipalities
and companies
The goal of BIKETOWER project is to build a system of fully automatic bike garages with unattended access and unlimited operation. The emerging possibility of the safe storage of bicycles and e-bikes of all price categories should contribute to their more widespread use, especially on routes that continue with a means of public transport, and thus have a positive effect on reducing single-user car traffic in cities.
Total number of stored bicycles
2250000
As of May 31st 2023
BIKE
TOWER
is used in
20
different places
Why buy a

BIKE

TOWER for residents and visitors to the city?
BIKETOWER promotes a healthy lifestyle and is an important element in promoting urban cycling.
BIKETOWER improves investments in cycling infrastructure, because in general, if I already have the opportunity to travel safely by bike or e-bike, I still need to know, where to put my bike or e-bikesafely at the destination.
BIKETOWER has a direct effect on increasing the number of people travelling on bicycles and thus reducing the number of people travelling by car.
BIKETOWER saves up to 62 % of space compared to conventional bicycle stands. It can store up to 118 bicycles in the area of six parked cars.
BIKETOWER increases tourism in cities with the group of cyclists who require safe bicycle storage for their visit.
BIKETOWER has a positive impact on the environment due to its influence on the development of bicycle transport and a healthy lifestyle.
BIKETOWER is a modern solution supporting the mobility and sustainability of urban transport.
BIKE
TOWER benefits in numbers
Project attracted 40% of new cyclists. This group consists of people who want to store their bikes safely at the end of their journey. These new customers of BIKETOWER system began to regularly use a bicycle or e-bike on the way to work or school, when previously they only used it for sports or recreation.
Thanks to BIKETOWER system, 25% of cyclists have started to regularly use a helmet for riding around the city. The impetus for more frequent useof a bicycle helmet is the possibility of storing it together with the bike.
95 bicycles stolen daily in the Czech Republic – statistics show that 95 bicycles or e-bikes are stolen in the Czech Republic each day. No bike has ever been stolen from BIKETOWER. BIKETOWER is the safest form of storing bicycles in a public space.
BIKE
TOWER awards
BIKETOWER has won awards both in the Czech Republic and abroad
Environment
BIKETOWER promotes a healthy lifestyle and a car-free city
CO2 emissions decreased thanks to new cyclists who preferred bikes over cars
+
CO2 emissions decreased thanks to new cyclists who preferred bikes over public transport
=
Counted on 2,000,000 bicycle storage as of September 15th, 2022
Calculation of carbon dioxide emissions
Average distance travelled per day
10 km (return trip)
Average car consumption
5 litres/100 km
CO2 emissions for a distance of 10 km one way*
*Source: European Cyclist's Federation, CO2 calculator
CO2 emissions over a distance of 10 km one way*
= 2700 g
= 1 010 g / person
= 210 g
= 220 g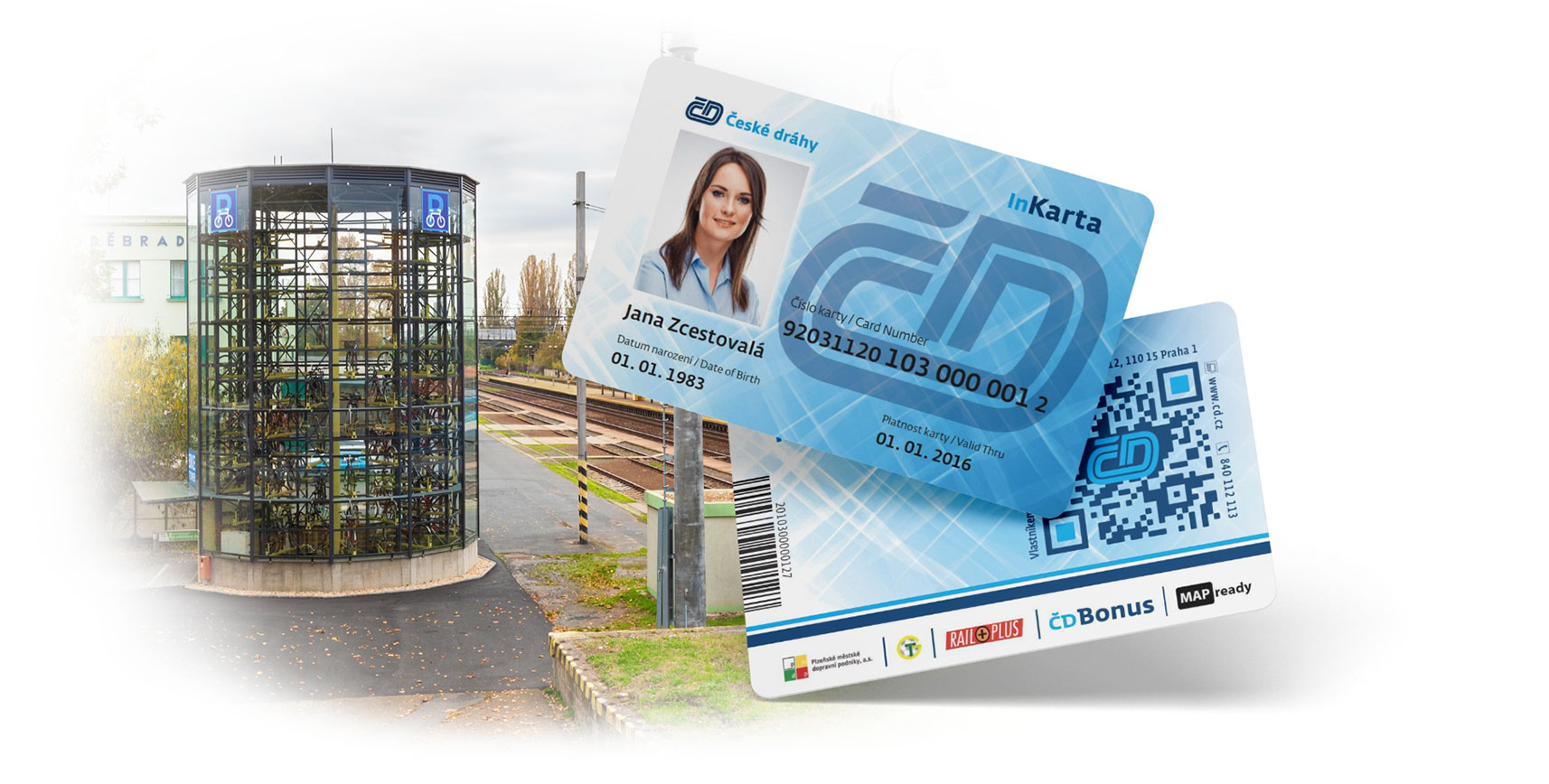 Czech Railways




support

BIKE

TOWER

Receive a discount when using your Czech Railways In Karta card.
Payment is made on site by coin or City Card.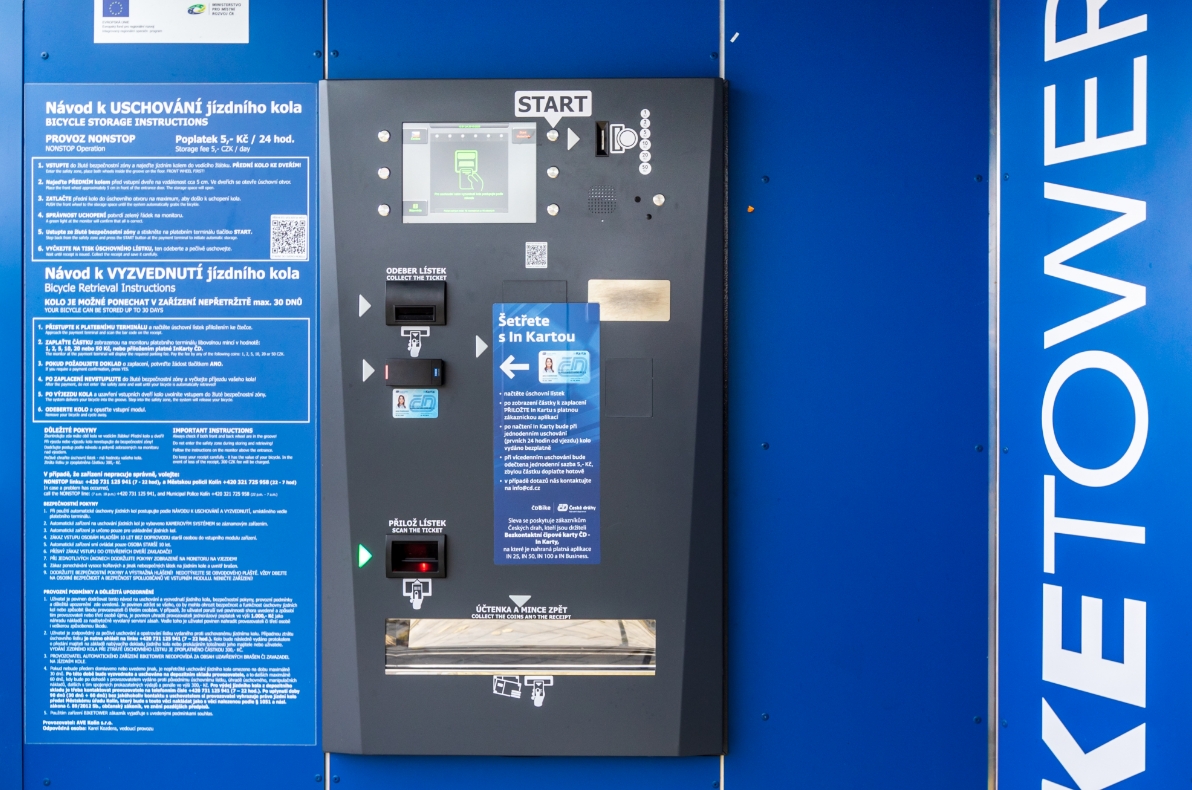 Before their ride, cyclists can check how many open spaces are currently available in any given BIKETOWER using a smartphone or tablet. The address is always given in the QR code posted on each BIKETOWER and website.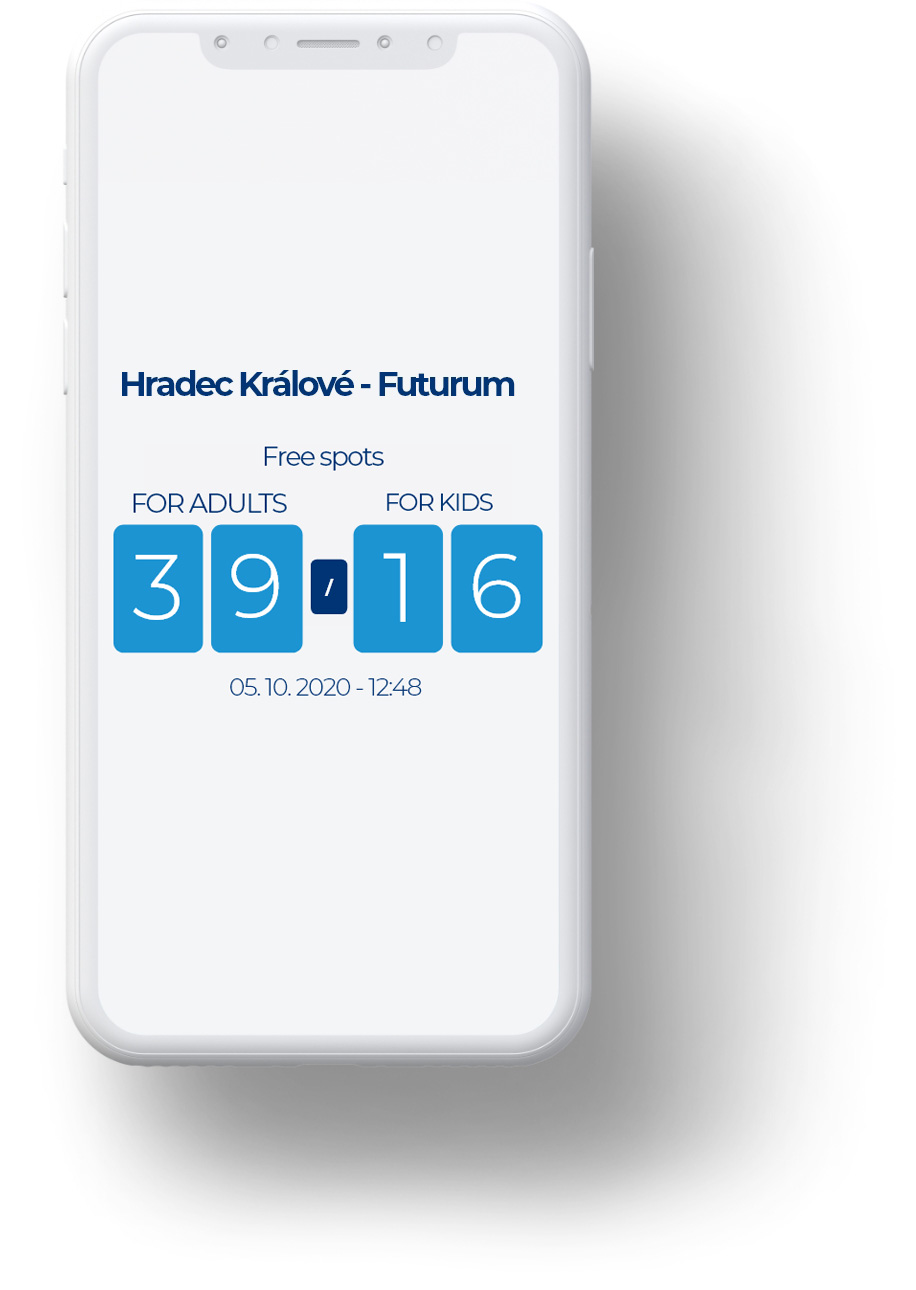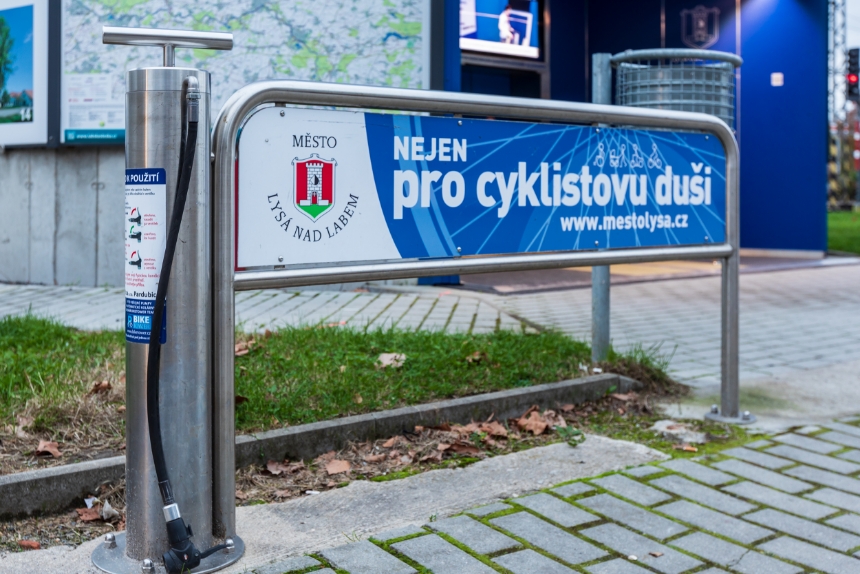 For the cyclist's tyres – a public pump
A simple device for inflating tyres on bicycles, but also strollers, wheelchairs, etc. The whole set consists of a pump and a support railing with an advertising sticker. Material design of metal parts of the set: stainless steel.
01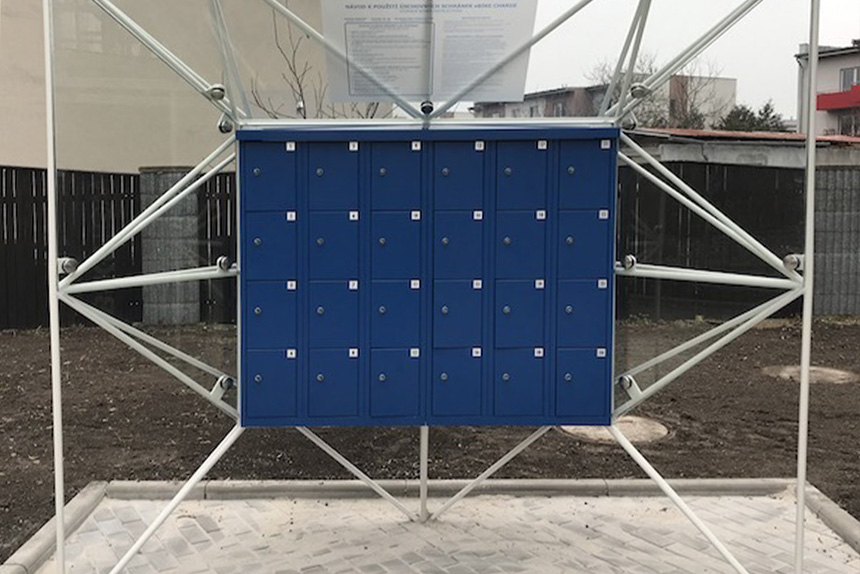 eBIKE CHARGE
eBIKE CHARGE is a unique modular system of storage charging boxes. Each box has two sockets for charging the batteries of e-bikes and mobile devices. Cyclists can store their belongings in a safe and dry environment and conveniently charge the batteries while storing the bike in BIKETOWER. eBIKE CHARGE is open 24 hours a day. The shape of the supporting structure is based on the shape of the entrance space of BIKETOWER. The construction does not optically disturb the free space around the tower. The upper part of the structure is protected against rain by glass glazing.
02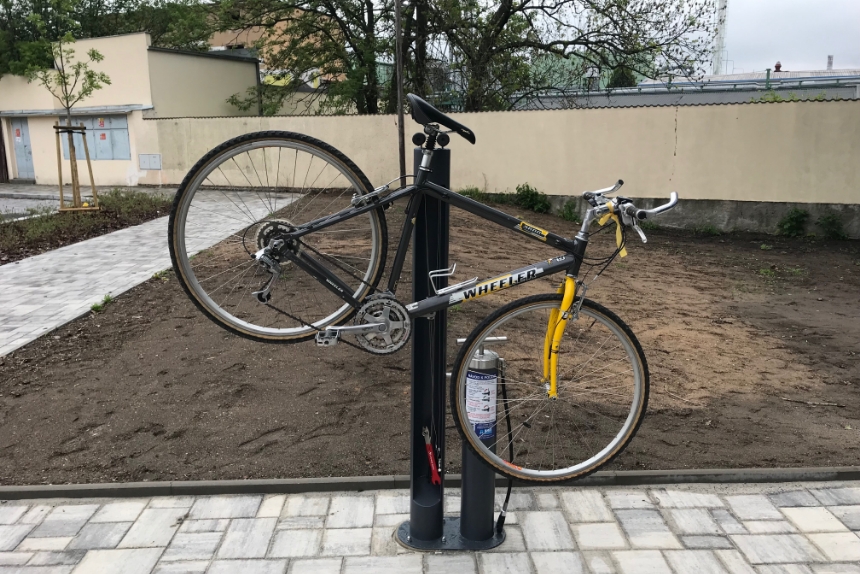 PCD service stand
Service stand with basic tools for changing tyres or tightening loose screws, or fixing a broken chain. The stand also contains a mechanical pump for inflating all types of tyres. Material design of metal parts of the set: painted galvanised steel.
03
Possibilities

of cladding

and

decorative lighting

BIKETOWER cladding can be left transparent or incorporated into existing buildings with a suitable adhesive sticker. BIKETOWER can be used as an advertising space or a place for city infographics. BIKETOWER can be equipped with decorative lighting.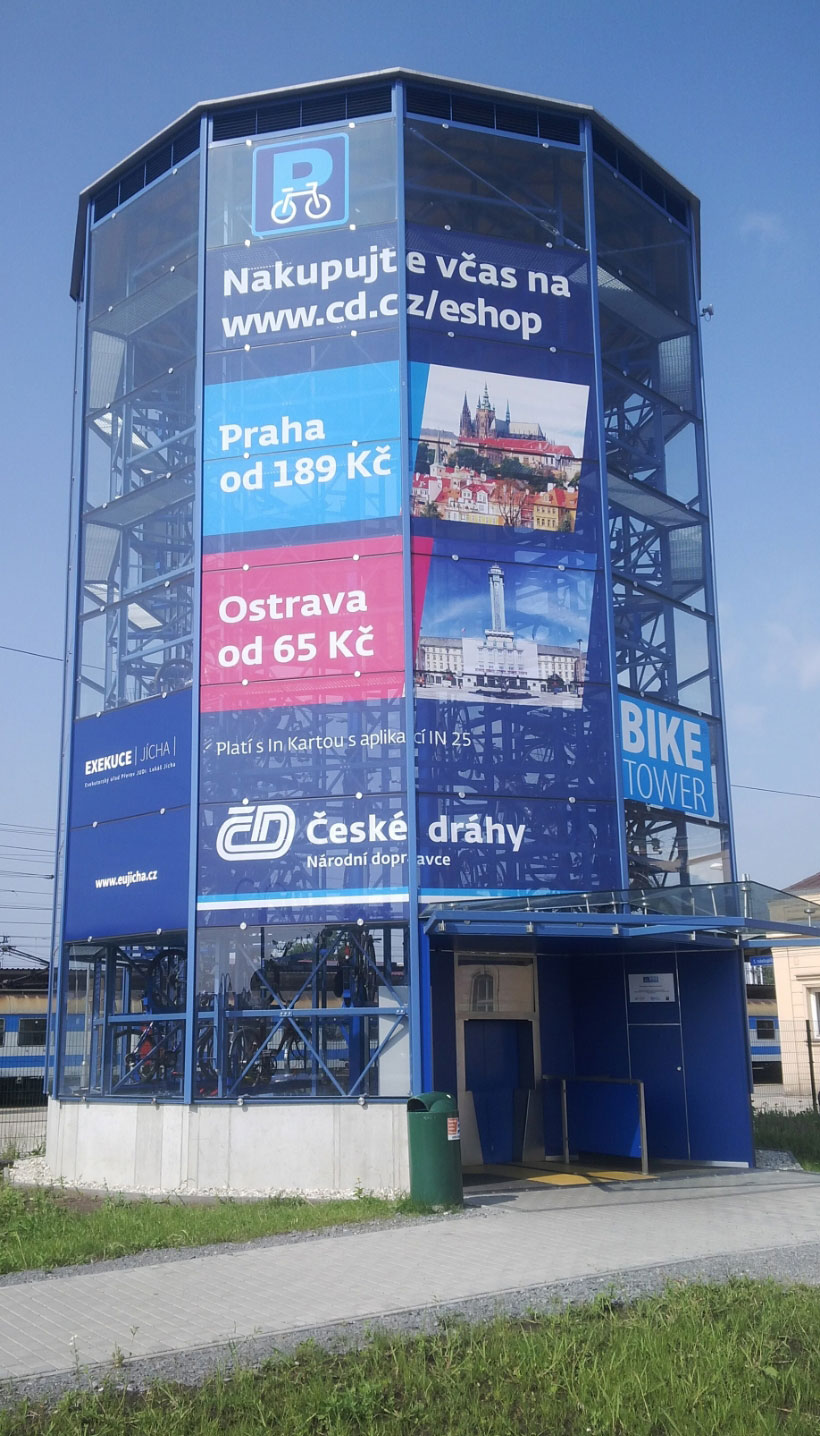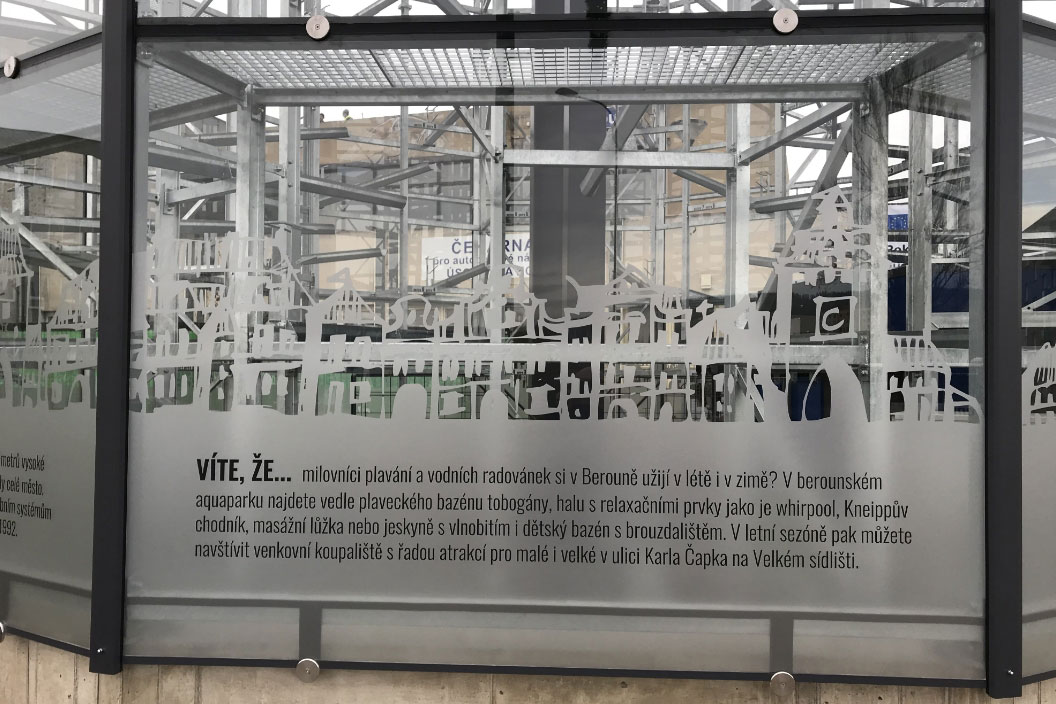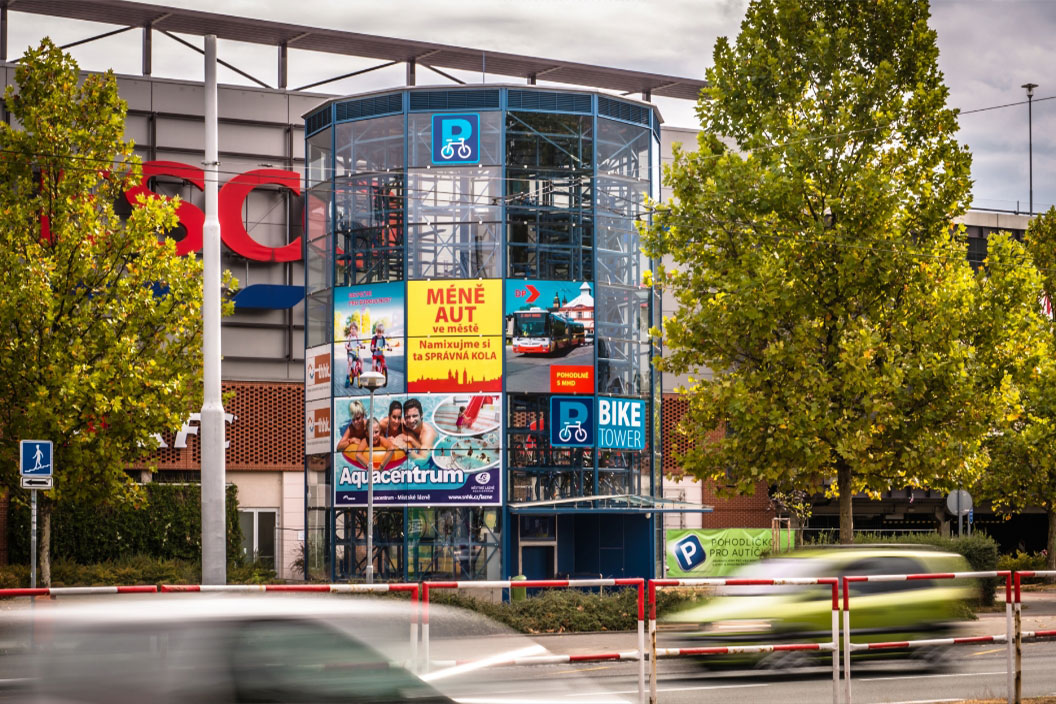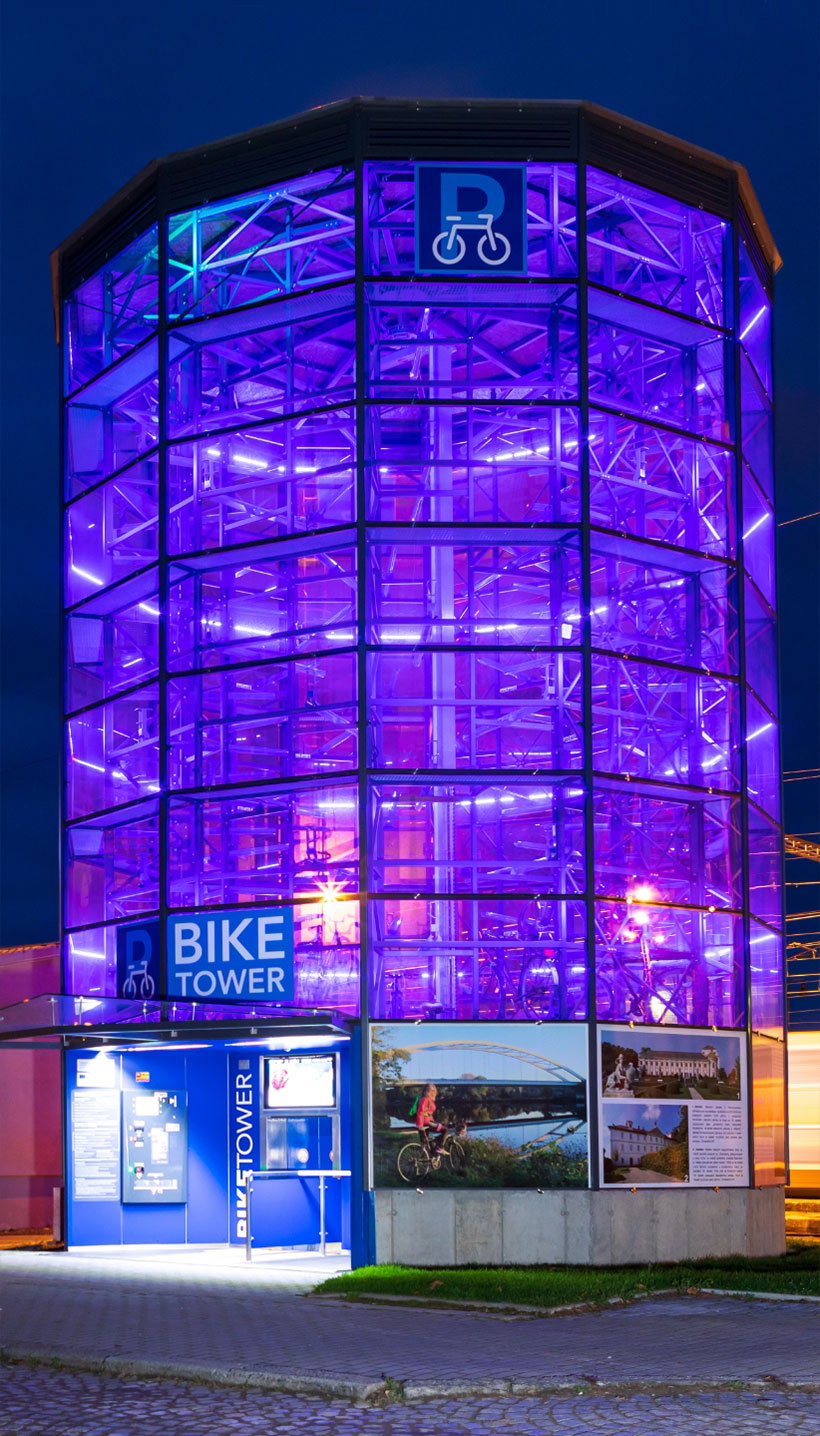 Technical parameters
| | |
| --- | --- |
| Storage capacity: | 118 bicycles |
| Bicycle types: | All types up to 50 kg |
| Height: | 11,4m |
| Diameter: | 8,36m |
| Camera system: | bike storage camera recording with archiving |
| Traffic records: | the system records the daily traffic of the bikes |
What are the operating costs for electricity and data connections?
Operating costs for electricity are approx. CZK 2,000/month, data connection approx. CZK 600/month, insurance approx. CZK 1,000/month, waste bin approx. CZK 100/month, as well as small operating costs (printer paper, etc.).
What are the operating costs for administration, maintenance and service?
The warranty for the bike shed is 5 years, the price of BIKETOWER includes a five-year preventive service (service inspection twice a year) and remote administration (on-line supervision of the service centre). Expenditures per operator range up to CZK 10,000 monthly – authorised by one of the city's organisations, which through trained staff provides 24- our operation – replenishment of coins, paper in the printer, cleaning, etc. After the warranty period, it is necessary to negotiate a service contract and remote access contract costs of solving problems that can beeliminated by remote access.
What is the number of planned outages?
Each BIKETOWER has two planned operational outages (preventive service inspections) per year. The time required for one inspection is from 7 am to 4 pm.
What is the number of extraordinary outages?
Based on previous experience, there have been no extraordinary outages.
What is the average occupancy?
The capacity of one BT is 118 bikes, of which 16 are children's bikes. The average daily occupancy for all BIKETOWERs combined is about 47%. During the high season, it is on average 64%, in the off-season about 38%. However, this is not entirely authoritative, as it also includes BTs with initial operation, for which occupancy usually increases continuously.
What is the total occupancy for the entire period of operation?
In total, BIKETOWER project has already stored more than 380,000 bicycles and e-bikes. That's more than 16,000 a month. The first BT has been in operation since 2013, the other two were added in 2015 and their number has been gradually growing since 2017.
What is the number of In Karta customers / other card owners?
In a comparable city, such as Pardubice, the number of used In Karta in June 2019 was 1,145, and the total number of customers was 3,107.
What is the financial participation from ČD (Czech Railways)?
ČD (Czech Railways) pays a one-day deposit to In Karta holders, i.e., CZK 5 per day. If the bicycle is stored for several days, CZK 5 will be deducted from the total fee.
Can any of BIKETOWERs cover maintenance costs?
Yes. In cities where there is a lot of use. In addition, some BIKETOWERs are permitted to rent space for advertising purposes.
What is the experience and responses from other cities?
According to our operational experience, cities are aware that the support of bicycle transport, as an alternative to passenger car transport, must include safe storage in addition to infrastructure.